Faith Builders
Shalee
has written a
a great post
about God giving her the strength to endure a recent sacrifice, and she's added a Mr. Linky so that the rest of us can participate, too. If you have a post - either new or old - that addresses (come on, now! TESTIFY! GLORY!) :-) God's mercy at a particular point in your life, head over to Shalee's and add your link. I can't wait to sit down and go through every single one of them later today.
Also,
Heather
and
Janice
have teamed up to create a new devotional blog,
Faith Lifts
. They have lined up a great team of contributors, and it might be that you (yes, YOU!) might want to contribute, too. All the info is conveniently located on the Faith Lifts site - and pick up a button for your sidebar while you're there.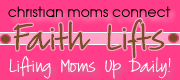 Y'all have a great day!